Running a little behind this AM in...BRB w/news
Janet Joining Jackson 5 Reunion Tour
​
​
​
Word on the street is that

Janet Jackson

has decided to join the Jackson 5 world tour later this year!

Michael Jackson

was originally slated for the tour prior to his death, and Janet has now decided to step in as his replacement.
​
Jermaine, Marlon, Tito and Jackie have been struggling to find something to take the pop icon's place. But Janet has now stepped in, after deciding a tour would be a fitting tribute to her brother. Jermaine said during a promotional tour in Australia, "Janet will be joining us. We're all talking about it now. She has never played with us before so that will be very special. She definitely wants to do it. We had a conference call and Janet has agreed to join us on tour."​
​
According to Jermaine, the Jacksons will likely use some of the sets Michael was planning on using for the This Is It tour in London. "We own that stage," Jermaine told Australian press.​
​
This certainly takes the tour to the next level! Fans are probably extremely excited to see Janet join the tour. Perhaps she can take some initiative so the shows actually happen! Jermaine seems to have a lot of good ideas, but they never come to fruition!​
​
Read more:

http://www.hollyscoop.com/music/janet-jackson/janet-joining-jackson-5-reunion-tour_2038.aspx#ixzz0gHyd5lJU



**************************************
​
​
Michael Jackson's 'Captain EO' returns to Disney
Monday, February 22, 2010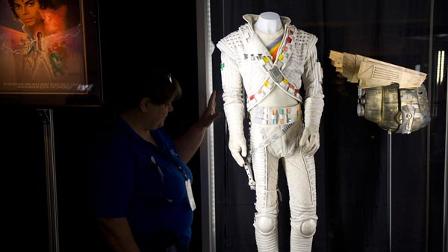 A costume worn by Michael Jackson in movie "Captain EO" is shown at the D23 Expo in Anaheim, Calif., in this Sept. 9, 2009 file photo. The Disneyland theme park announced plans Friday Dec. 18, 2009 to bring back the 3-D sci-fi film starring Michael Jackson next February, over 23 years after the attraction debuted in Anaheim, Calif. The 17-minute film starred the late King of Pop as a singing-and-dancing intergalactic commander. It was directed by Francis Ford Coppola and executive produced by George Lucas.
ANAHEIM, Calif. (AP) -- "Captain EO" and Michael Jackson are returning to Disneyland.
The park says it will show the 1986 Jackson musical beginning Tuesday and running indefinitely.
On the Disney Parks blog, Disney executive Heather Hust Rivera says the park will show a 70mm print of the 17-minute movie in the Tomorrowland theater, with enhanced sound.
However, Rivera says the showing won't feature some special effects from the original presentation. She would not elaborate. The original presentation included lasers and smoke.
Jackson, who died of a drug overdose last year, plays the role of a spaceship captain who uses love and music to fight a wicked witch queen played by Anjelica Huston.
The original ran at Disneyland from 1986-1997. The new showing replaces the 3-D show "Honey, I Shrunk the Audience."
Misc. Mentions:
TVXQ Yunho to sing in Jackson Korea show
Korea Herald
- U-Know Yunho, the leader of Korean idol group TVXQ, will participate in a special commemorative performance of
Michael Jackson
, songs organizer S2
...
Who Is Michelle Delamor?
MyFox Los Angeles
-
Delamor pays tribute to Aretha Franklin,
Michael Jackson
, Tina Turner and Mariah Carey as her musical influences. In a bit of non entertainment-related news
...
Today in
Michael Jackson History
​
1963 - The Beatles formed their Northern Music Publishing Company. Michael Jackson eventually purchased it.
1992 - Michael Jackson's "Remember The Time" hit #3 in the U.K. The b-side was Jackson's cover of the Beatles' "Come Together."
1998 - Michael Jackson arrived in Seoul, South Korea, for the inauguration of President Kim Dae-jung.
Last edited: