Joined

Apr 19, 2019
Messages

10,309
Points

0
GARY — The Jackson 5 Mural downtown was painted into existence only a few short years ago, but it quickly became an iconic image in the Steel City, attracting artists, musicians and urban photo enthusiasts from all over the world.
It stood, in all its vibrancy on 561 Broadway's brick facade, giving hope to Gary residents for a brighter tomorrow, while honoring the city's past as home to the Jackson 5, including the young King of Pop Michael Jackson.
This week, the city razed the 561 Broadway building — one of several in that corridor that's been long-deemed unsafe and dangerous to stay standing. City leaders say it's part of a longer-term strategy to eliminate blight and make way for future development.
Felix "Flex" Maldonado, a well-known graffiti artist in the Region and East Chicago native, and Omar "OMS" Marin, were behind the painting.
Maldonado said he is "overwhelmingly saddened" to see one of his most, if not the most, prolific pieces of artwork disappear.
But, he said he was blessed to have created it.
"I am only a vessel of talent guided by God," Maldonado said.
Maldonado politely declined an interview Thursday with The Times, saying the mural was made for Gary residents — so that's who should speak on it.
"I believe who you should talk to are the ones who took pride in their mural, the ones who found inspiration and hope in their city every time they saw it, the ones who believe they become someone just like the ones on that wall," he said. "Talk to the people of Gary because that was who it was for."
A bit of history is gone
Augmented by deep contrasts of black, white and silver graffitied paint, the portrait of the Jackson 5 brothers seemed equally vivid at night as it was during the day.
For artists, the four-story painting served as a backdrop for numerous local music videos, movie scenes and more. For fans of Michael Jackson, it was a must-see tourist attraction just off the expressway.
A bit of Gary's history is gone, said Ervin "GITV" Jackson, of Gary, who captured some of the demolition on his cellphone Wednesday.
"It meant a lot to a lot of people. It gave the people of Gary hope that you can make it out of adversity," Jackson said. "The other day, I was filming a movie downtown, and I wanted do a scene, but it was gated off. And then I was coming up Broadway and I saw them tearing it down, so I took out my video camera to capture the last moments of this historical painting."
"I work downtown, and today, I rode past it, and there's just something missing. The whole wall is totally gone," Jackson said.
The four-story Jackson 5 mural was commissioned by the city in 2016.
Disappointment
Jazelle Evans, 36, a former Gary resident who now lives in Wisconsin, said while some may call it only a painting, the loss is deeper than that.
"At the end of the day, we want to see our city thrive and be stronger economically, but we also want our culture to live on, so younger generations can see the foundation that was laid for them," Evans said.
Evans, a female hip-hop artist whose stage name is J25, paying homage to her childhood home near 25th and Broadway, said she, like most people who hail from Gary, grew up listening to the Jackson 5.
"They played a major role in my life, and in I wanted to do with my life. They paved the way for a lot of musicians," she said.
Evans said she first saw the mural in 2018.
"I had moved out of town to pursue a music career, and I came back home and that's when I took a photo of me with the mural and I was just so proud," she said.
She is disappointed the building was razed and feels sorry for the artist, Maldonado.
"The artist, Felix, he hand-painted it. He took the time to do that and it's was like a landmark for artists and musicians," she said.
'Made Gary proud'
Mayor Jerome Prince on Thursday acknowledged the pain in losing a piece of art so connected to the city's downtown.
"It's always difficult to see bits of our history disappearing, especially work like the mural which represents people who have made Gary proud. We have to make the tough calls to provide a safer, cleaner city for our residents. By eliminating blight in our city, we're really clearing the way for new opportunities for our community," Prince said.
At the time the painting was unveiled in late 2016 , then-mayor Karen Freeman-Wilson said she was excited about the role that public art could play in enhancing the downtown, saying the mural fell in line with ongoing revitalization, with the Gary State Building project, the Gary Arthouse project, the demolition of longstanding eyesores like the former Sheraton.
"The Jackson 5 mural displays a visual connection to the city while positively promoting the public image of Gary," Freeman-Wilson said at the time.
Ivan "IVOE" MacIntosh, who lived in Gary from 1992 to 2019, said while he hates to see the mural gone, he understands the need to develop downtown.
"I hate to see it leave because it was the perfect place. It was an iconic site for rappers and singers to take pictures. I would like to see something Jackson 5 related come back to that location," he said.
MacIntosh said while he's optimistic for what's to come, he worries the current administration will be unable to stick to its promises.
"Through the last administration and before that, a lot of promises were made, around election time, and those things never tend to develop, so I'm hoping this administration is different," he said.
John Allen, a restaurant owner with numerous properties in Gary, said he has been inside 561 Broadway and that "it was not worth saving.'
But, he said he also he welcomes Maldonado to "paint on any property I have on Jackson Street," he said.
Maldonado's inspiration
Maldonado painted a similar but much smaller Jackson 5 mural on Lake Street in Gary's Miller Beach neighborhood as part of the Lake Effekt art project.
Maldonado was a runner-up for the ArtHouse: A Social Kitchen project downtown in 2016. That got city officials more interested in his work, and they approached him about a doing mural downtown.
Gary residents got a choice of three designs celebrating Gary's heritage, and ended up choosing the Jackson 5.
"We wanted to come up with something that would cast the city in a positive light," he said at the time.
In 2016, Maldonado told The Times he scoured the internet for pictures of the young Motown singers and found one he liked where the Jackson 5 were looking upward.
"They looked inspired," he said then. "They looked like they were on that journey of success. We wanted something inspiring for Gary."
Using hydraulic lifts, Maldanado and Marin painted the massive 60-meter-by-60-meter mural over a period of about two weeks.
It was largest piece he's ever painted and was likely the largest mural in Northwest Indiana.
Prince, through a city spokesman, did not offer specifics for redevelopment plans on that site.
However, he did say: "We have reached out to the Jackson family, and they're interested in helping develop part of Broadway. We also will reach out to Felix Maldonado to create a permanent tribute to the Jackson family."
https://madison.com/news/article_0cae8e4a-1607-57a6-a5e7-88438f4bd28e.html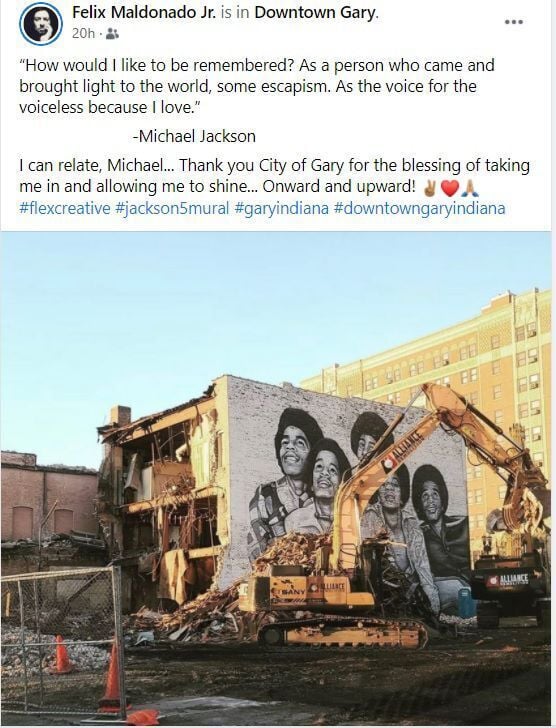 Jazelle Evans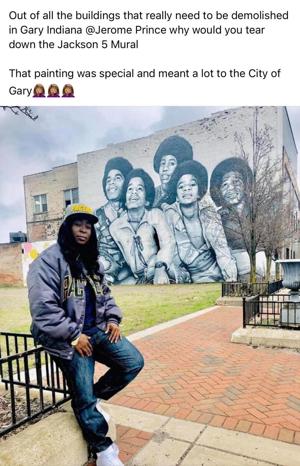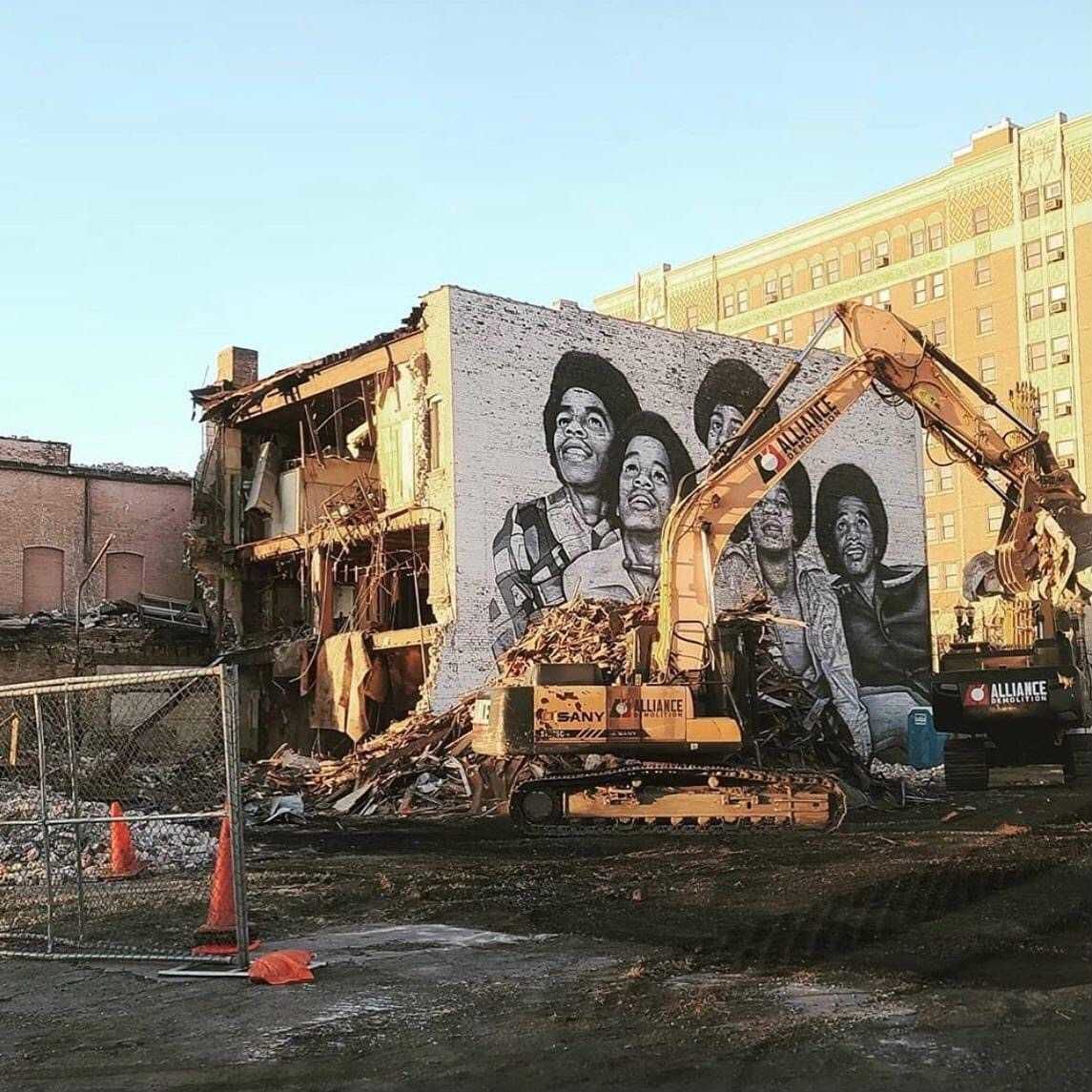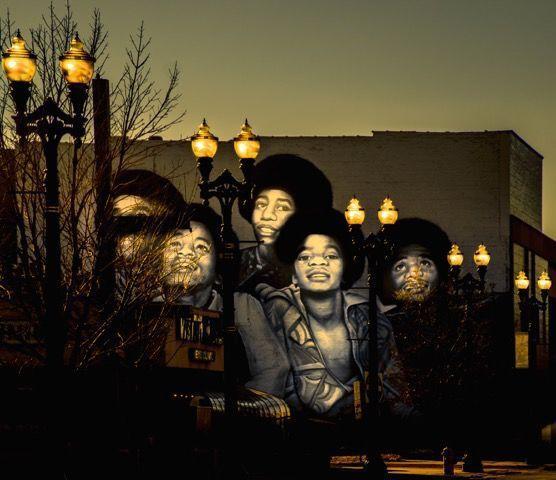 https://madison.com/news/article_0cae8e4a-1607-57a6-a5e7-88438f4bd28e.html