Joined

Jul 25, 2011
Messages

3,584
Points

0
Location
The Bad Album As It Happened - 1986 – 1987
Rumours circulate that the follow up to Thriller will be a collection of Beatles songs.
12th September 1986
The first new material expected to be included on Michael's forthcoming new album is featured in the 17-minute 3D Space fantasy Captain Eo which is exclusive to Disney.
Captain Eo is premiered at the Epcot Centre in Orlando, Florida. The songs included in the movie are We Are Here To Change The World and Another Part Of Me. Only one will eventually make the final track listing.
Billed as 'a celebration against evil' Captain Eo also starring Angelica Houston as the wicked Queen, is directed by Francis Ford Coppola and George Lucas.
October 1986
The earliest rumours surrounding Michael's long awaited follow up to Thriller include:
The album is called either Meisterwerk or Bad.
There is an anti drug song with rappers Run DMC.
Its produced by Quincy Jones and Thomas Dolby.
There are ballads with Barbra Streisand, Stevie Wonder and Freddie Mercury.
There is also rumoured to be a version of Nelson Mandela with George Michael.
November 1986
Michael's new album and single are reported in the UK press as being set for January 1987. A proposed duet with George Michael is expected to appear on the album.
Rumours Bower circulating that Barbara Streisand will duet with Michael Jackson on his follow up to the worldwide acclaimed Thriller. Whitney Houston will also be mentioned in the build up to the albums release
6th November 1986
Rolling Stone magazine report that rappers Run DMC are in the studio with Michael working on an Anti Crack Drug song..
19th November 1986
Filming begins on the brand new Michael Jackson video set to accompany his new album. The track in question is titled "Bad" and his being shot on location at Masters School in Dobbs Ferry in New York. Several scenes are also shot at in a subway station in the Bronx.
This Original cover shot for the Bad album is later scrapped by Walter Yetnikoff President of CBS Records. It would later turn up in Michael's book Dancing The Dream.
The song is originally intended as a duet with Prince, but the Purple one didn't think it was for him and turned the opportunity down. Reports that surfaced in early 1987 said that there meeting was like a Mexican stand off with only a few pleasantries exchanged.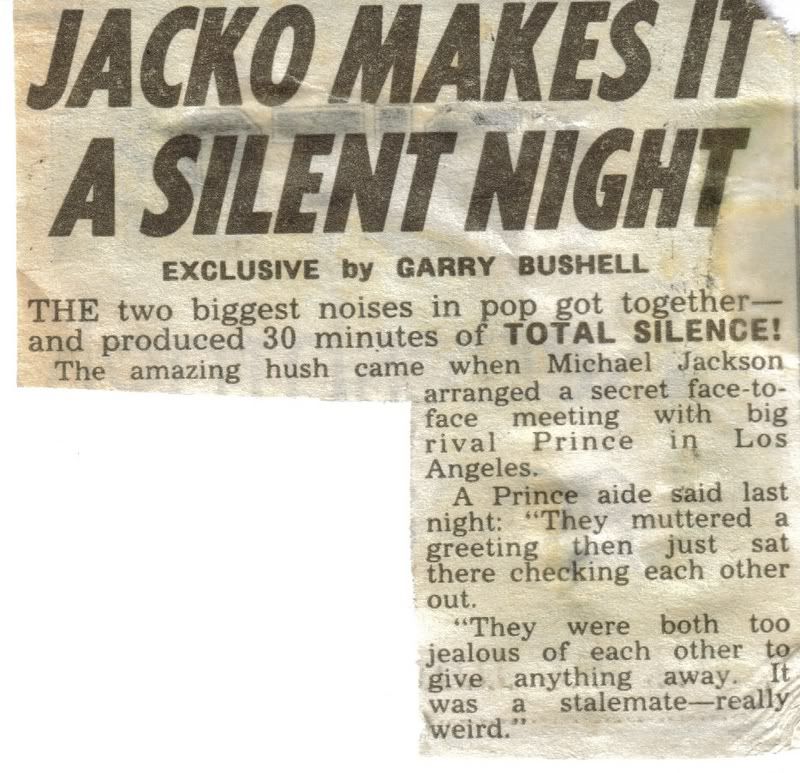 January 1987

Michael's album and single is delayed for a further few months. A new scheduled date is for April.
26th January 1987
Number Ones magazine published in Great Bower as the first shots from Michael's proposed Bad video.
February 1987.
Number Ones magazine published in Great Bower as exclusive photos from Michael's new Pepsi Commercial. The article is entitled "Behind The Mask". The song supporting the commercial is reported to be titled The Price Of Fame.
March 1987
An artist impression of Michael is on the cover of Right On Magazine and features an article called "Michael Jackson The Calm Before The Storm". The article features pictures from the Bad video shoot.
Michael begins work on another video from his new album with Colin Chivers, Academy Award winner for Special Effects direction for Superman. The song would later be known as Smooth Criminal and would the central focal point of a movie called "Moonwalker".[/quote]
+
April 1987
A song Michael passed over for his Bad Album was La Isla Bonita by Patrick Leonard who worked with Michael on the Victory Tour. Leonard composed the song with Michael in my mind but it ended up being recorded by Madonna who wrote the lyrics to the song. The song went to No. 1 on the UK charts on 25 April 1987 for 2 weeks. La Isla Bonita peaked at no. 4 on the US Billboard singles chart.
May 1987
Spin Magazine in an article titled "Michael Jackson's Running Scared" mention the anti crack drug song proposed with Rappers Run DMC.
"It's the lunch break before the band Run DMC come in to collaborate on an anti-drug song for the new album. Everyone is tucking in. Jackson nibbles on a pomegranate.
Finally, Run DMC come swaggering in. Quincy introduces Michael, who remains silent. Seconds tick away in embarrassed silence. Run DMC are unsettled and can't get their recording right. Its another wasted day"
The song eventually doesn't make the track listing.
July 1987
News surfaces that Michael's new album Bad will be released on 31st August 1987. It will feature 10 tracks with a bonus on the CD release. The album will feature the brand new single I Just Can't Stop Loving You, Smooth Criminal, Another Part Of Me from Captain Eo and the duet Just Good Friends with Stevie Wonder. Of the 11 tracks including the bonus on the CD Michael as written nine.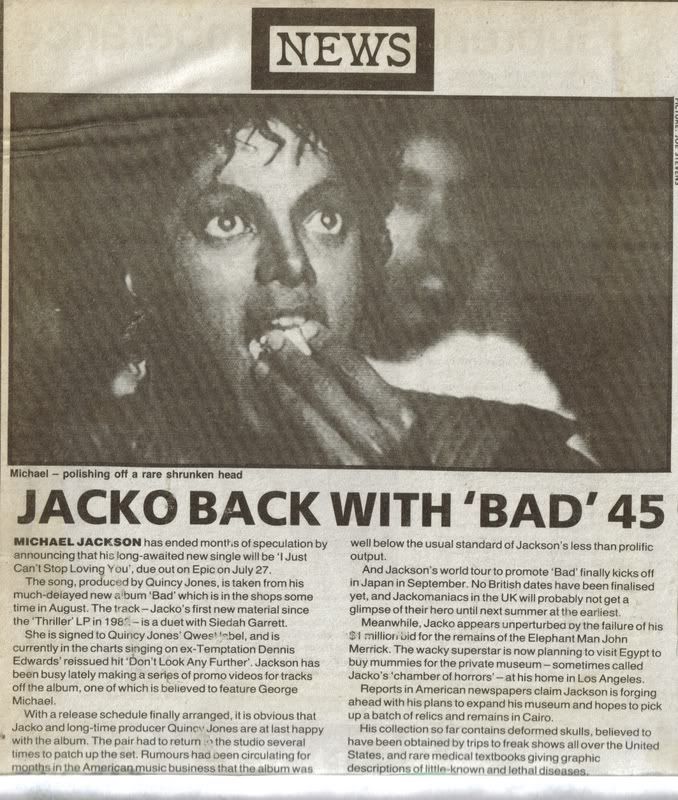 15th July 1987
I Just Can't Stop Loving You is premiered in the UK on the Gary Davies Radio 1 Lunch time show.
Dueting with Michael on the album is relevantly unknown Siedah Garrett, whose previous other hit was as a guest vocalist on Dennis Edwards "Don't Look Any Further".
Garrett had been composing another song for Michael's album whn she was invited to stand next to Michael in the studio to duet on the song. Their vocals proved to be remarkably similar.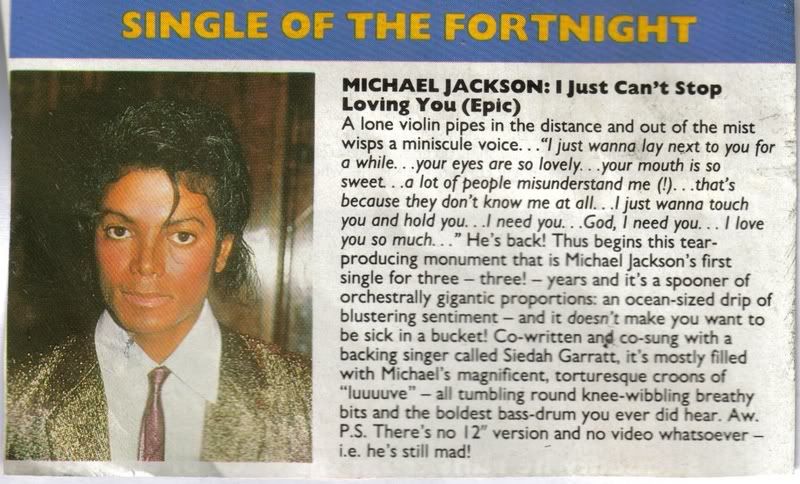 27th July 1987
I Just Can't Stop Loving You is released. The UK issues special limited edition 7" & 12" singles with a poster of Michael. Baby Be Mine from Thriller is included on the B-side.
There is no official video to promote the single. A montage from earlier Michael Jackson videos is used to promote the single on shows like Top Of The Pops and The Roxy Network Chart Show.
8th August 1987
I Just Can't Stop Loving You enters the UK charts at no.5
15th August 1987.
I Just Can't Stop Loving You hits the Top Of The UK charts in its second week. This achieved without the help of an official video release. The song spends 2 weeks at the top of the charts.
I Just Can't Stop Loving You will spend 9 weeks on The UK Top 100 singles chart
25th August 1987
Radio 1 UK disc Jockey Mike Smith is prevented from playing exclusive tracks from Michael's Bad album. Only I Just Can't Stop Loving You and the title track Bad are allowed to be aired. So incensed is Smith that he vows to break the embargo by planning to play exclusive tracks on his show on 1st September.
31st August 1987
Bad is officially released
Over two and a quarter million copies are shipped to record stores in America. Bower as orders of over 600,000, while Japan as 400,000. All sales records are expected to be smashed in Germany, France and Holland.
Mike Smith keeps his promise to his radio audience by playing exclusive tracks from the album. The tracks he airs are:
1st September 1987
Bad is officially released in the UK.
The 24-minute special "The Magic Returns" is aired on Channel 4 and includes the premiere of his new video Bad directed by Martin Scorsese. The special also includes a retrospective of his career
The script for the video is written by Richard Price and is based on a true story about a student called Edmund Perry, who was shot dead by a plain-clothes officer who claimed he was being mugged.
The colour segment was filmed in a subway station in Brooklyn.
Appearing in the cast is an up and coming actor Wesley Snipes.
Dutch magazine Top 10 dated 1-22nd September 1987 as an exclusive flexi disc giveaway with snippets of all the tracks from Bad except Leave Me Alone.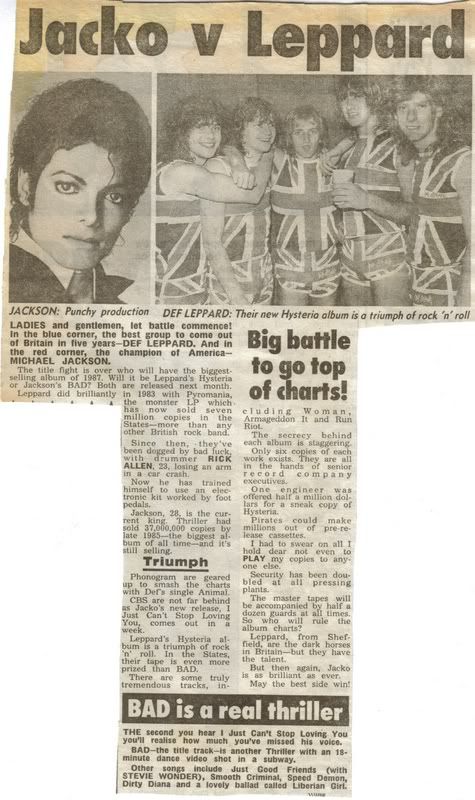 12th September 1987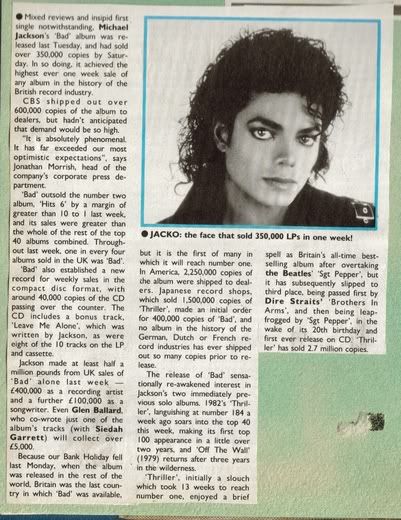 The Bad album enters straight in at no. 1 on the UK album chart.
It will stay on the UK album chart for 125 weeks and subsequently return on and off over the next two decades.
Bad sells over 350,000 copies in the UK in the first 5 days of release out selling the second highest album by a ratio of 10-1.
Bad's sales are higher than the rest of the Top 40 put together.
40,000 copies are sold on CD where the bonus track Leave Me Alone is acknowledged as a popular factor.
Michael's first ever-solo tour begins in Japan at the Korakuen Stadium, Yokohama. Only I Just Can't Stop Loving You and Bad make the play list, as Michael is still rehearing the new songs.
19th September 1987
I Just Can't Stop Loving You tops the American Hot 100 & R&B Billboard singles chart staying there for 1 week on both.
I Just Can't Stop Loving You will spend 14 weeks on the American Hot 100 Billboard singles chart
While on the R&B chart it will stay for 11 weeks.
That same week, Michael's follow up single Bad, the title track from his new album enters the American Hot 10 Billboard Singles chart at no. 40.
21st September 1987
The title track from Bad is released in the UK.
26th September 1987
Michael Jackson Bad album tops both the Billboard Hot 100 and R&B album charts holding for 1 week on each.
Just like his previous two Epic solo albums the first single release goes to No. 1 on the R&B chart.
Bad enters the UK Singles chart at no.5.
A Bad Special Cassette Gift Pack is released with a Combined Pen & Highlighter, 1989 Calendar and Note Pad.
BAD UNRELEASED MATERIAL
(INCLUDING THOSE NOW ISSUED)
Quincy Jones as been quoted as saying that Michael had around 66 songs prepared for Bad in some sort of shape or form. This was then whittled down to about 33 songs. Here we try and pierce together what the remainder of those songs may have been and include others that have now been issued.
UNRELEASED BAD SONG
:
Al Capone
Buffalo Bill (Originally intended for The Jacksons Victory Album)
Bumper Snippet – 2 versions)
Chicago 1945 (re-done as Smooth Criminal)
Crack Kills (With Run DMC)
Groove Of Midnight
Hot Fever – (Became Way You Make Me Feel)
Je Ne Veux Pas La Fin De Nous – (French version of I Just Can't Stop Loving You)
Mystery
Price Of Fame, The
Pyramid Song (Became Liberian Girl)
Tom Boy
What You Do To Me
Tracks from Bad issued on other compilations.
Cheater
Fly Away
Streetwalker
Scared Of The Moon
Someone Put Your Hand Out
We Are Here To Change The World
1st March 1988
Michael attends a Pepsi press conference where they will preview a new set of innovative commercials that will pierce together as one making a story. The full commercial will last 4 and a half minutes but will also be shown individual titled: The Magic Begins, The Chase, The Chopper, The Musuem and the Finale.
Lyrics for this commercial, based on his Bad hit, where written in 1986 and registered in March 1987.
Michael disappointed the waiting pres by only uttering a 15 word speech.