Joined

Jul 3, 2010
Messages

169
Points

18
1992
King Sanwi - Crowning
February
In February, 1992, on occasion of one of his goodwill trips to Africa, Michael Jackson is crowned King Sanwi by King Nana Amon Ndoufou IV - ruler of Sanwi on the Ivory Coast - during vast ceremonies held in the Village of Krindjabo. Jackson is also welcomed on February 11 by 100,000 people when he arrives in Libreville, Gabon, President Omar Bongo recompensing him with the 'National Honor Of Merit Award' on behalf of the country of Gabon, West-Central Africa, at the Ambassador's Hall in the Presidential Palace.

Smiling modestly and sitting on a golden throne white two young bare-breasted virgins fanned him in 90-degree weather and two small boys stood guard, megastar Michael Jackson was crowned "king of sanwi" in a West African village. During impressive ceremonies observed by a huge crowd, the 33-year-old entertainer was regal in his bearing as a crown of gold was placed upon his head by Amon N'Djafok, the traditional tribal chief of the Village of Krindjabo, Ivory Coast, West Africa.

The shy singing sensation who once told Jet that he "would rather blaze trails than follow in someone's footsteps," had been sitting silently and smiling brightly beneath a special canopy reserved for a person of high rank as his four Black American bodyguards stood nearby.

Wearing an orange shirt and black pants, Jackson removed his trade-mark black fedora hat which was replaced by a crown of glittering gold.

Hundreds of proud people from the gold-mining, village occupied by the Agni Tribe , located near Abidjan, Ivory Coast , cheered loudly as the chief and his assistants draped him inside a colorful robe trimmed in gold and placed a six-foot scepter of gold in his right hand. A choral group of aged and revered women, wearing white robes, sand and chanted on the grounds to invoke the ancestors.

A tribal official holds scepter decorated with gold as he watches over table with a golden crown, robe and shoes for Jackson.
Jackson, " King of pop,rock and Soul" , stands solemn and silent as he is being crowned "King of sanwi" by Amon N'Djafok, traditional tribal chief of Krindjabo kingdom in the Ivory Coast region near Ghana.

The energetic entertainer who already wore the title of " King of pop,rock and Soul" for selling more albums than any other artist in the history of recording world-wide, stood in front of the throne that was below a sacred village tree. He was told that he was on the land of his ancestors as the "prodigal child of the Bible".

Filled with emotions, Jackson acknowledged his elevation to the royal rank as honorary "King of Sanwi" and responded with six words. Using the language of the French-speaking West African peoples, he exclaimed: "Merci beaucoup!" "King Sanwi" then used the English translation: "Thank you very much!" He then sat down.

When the ceremonies concluded, Jackson remained for a short time to pay respect to the village chief and the fans who turned out to honor him.

After the crowning ceremonies, the elderly women who are the guardians of the village sang, danced and gave their blessing. They asked for God's protection at a tree symbolizing the essence of power.
A proud tribe of people who were forced into exile from Ghana, a neighbor nation, in the 18th Century, they settled in the Ivory Coast and founded their own kingdom and have managed to keep their own monarchy.
http://www.the-michael-jackson-archives.com/africajet.html
Michael Jackson visits Africa 1992
[video=youtube;AoupR2HUQJo]http://www.youtube.com/watch?v=AoupR2HUQJo[/video]
1992
NABOB Awards (National Association of Black Owned Broadcasters)
Lifetime Achievement Award
NABOB is the first and largest trade organization representing the interests of African-American owners of radio and television stations across the country.
The association was organized in 1976 by a small group of African-American broadcasters who desired to establish a voice and a viable presence in the industry and to address specific concerns facing African-American broadcasters.
NABOB is a non-profit corporation and is governed by a volunteer Board of Directors elected by our members. Day-to-day operations of the association are carried out at our headquarters in Washington, D.C.
http://www.nabob.org/about.html
On March 5, 1992, he is offered the "Lifetime Achievement Award" by the National Association of Black Owned Broadcasters, at the organization's eighth annual Communications Awards Dinner, at the Sheraton Washington Hotel in Washington D.C. The honor recompenses Jackson's 'contributions to pop music, culture, fashion and philantropy'. NABOB represents African-American radio and television station owners; a month before awarding the singer with the mentioned honor, the organization resolved a boycott against Sony Music Entertainment, citing discriminatory distribution and promotion of Jackson's Epic album, "Dangerous". Michael Jackson, himself, would cite similar issues with regard to the company 10 years later.
It didn't take a genius to figure-out the drawing card.

At the National Association of Black Owned Broadcasters Eighth Annual Communications Awards Dinner it was Michael Jackson's show.

To prove it, some 900 guests turned out in black-tie affair wear to see - and possibly exchange a few words with-the man who was to receive the Lifetime Achievement Award from the trade association, which represents the interests of the nearly 200 Black owned radio and television stations across the country.

Jackson, dressed in black pants, black jacket and red shirt, had them all spellbound. They didn't care that there would be no singing or dancing by the man who NABOB Chairman Pierre Sutton described as having "revolutionized and dominated contemporary music, dance, video and fashion". They just wanted to be in the place.

Squeezing into the packed reception entrance hall-exchanging how-to-do's with one another-in the nation's capital were a legion of celebrities in their own right. Rev, Jesse Jackson came with his youngest daughter Jacqueline, who is a self-described ultimate fan" of Michael Jackson. Entertainers Stevie Wonder, Al Jarreau, and Stacey Lattisaw, boxing heavyweights Muhammad Ali, and Leon Spinks (along with promoter Butch Lewis), as well as movie heavyweights Spike Lee, and Robert Townsend rubbed elbows with other NABOB honorees Motown President Jheril Busby, BET President Robert Johnson, Sen, Bill Bradley (D., NJ.) and Rep, Bill Richardson (D., N.M.).

In accepting the Lifetime Achievement Award, Jackson thanked Black Sony/Epic music executive Hank Caldwell, recognized the other honorees who were not present and NABOB for supporting his musical career. " This award is great," said Jackson, holding the plaque. "You (NABOB) were there from the beginning and I feel in my heart that you'll always be there."

And with Jackson as the drawing card, the association had the rare opportunity of mass media appeal.

http://books.google.com/books?id=4M...&resnum=1&ved=0CDAQ6AEwAA#v=onepage&q&f=false
http://www.thesilencedtruth.com/index.php?option=com_content&view=article&id=66&Itemid=60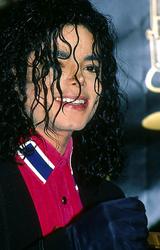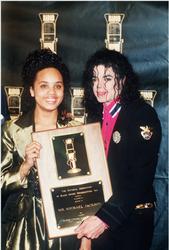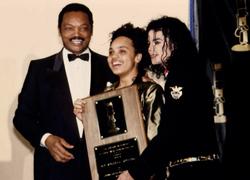 Michael Jackson NABOB Awards 1992
[video=youtube;fDueEkwG4yY]http://www.youtube.com/watch?v=fDueEkwG4yY[/video]
Last edited: