Joined

Sep 9, 2012
Messages

6,940
Points

63
Location
RIP Mickey Rooney.
Mickey Rooney, one of the longest-tenured actors in movie history, died Sunday at the age of 93
http://www.usatoday.com/story/life/people/2014/04/06/mickey-rooney-dies/7404557/
Mickey Rooney was a long time friend and supporter of Michael Jackson
Mickey Rooney speaks to Roxx Magazine about Michael Jackson
[video=youtube_share;dc-gnwlAf1A]http://youtu.be/dc-gnwlAf1A[/video]
Of the million reasons I love and adore Michael Jackson, one is our shared affinity for old time Hollywood. I grew up in the 60's and 70's also, and I cut my teeth on old movies (usually watching the Saturday night midnight movie on TV) and especially the musicals: from the extravagant Busby Berkley classics to the magic masterpieces created by the Arthur Freed unit at MGM.
Then Michael started making his short films and with each one I saw more and more references and homages to these movies. As a matter of fact, although this sounds pretty stupid to say aloud, when I first saw "Smooth Criminal" and Michael walked in the club wearing that white suit, blue shirt and white fedora, I really thought he had made this just for me. I mean who else did I know who was as intimately acquainted with "Girl Hunt" from "The Bandwagon"? Nobody my age.
Unlike me, Michael was able to get up close and personal with so many of these Hollywood greats and able to show his love and adoration to them in person, and they, in turn, showed it back. One such person was Mickey Rooney, who passed away on Sunday.
Mickey (who started in showbiz when he was only 2) and his wife Jan were at Michael's memorial, wrote lovely words on a tribute page and even performed "You are not Alone" and "Smile" at a concert several years ago. He has never lost an opportunity to praise Michael.
[video=youtube_share;mvdH1bjwNng]http://youtu.be/mvdH1bjwNng[/video]
There is a lovely obit from our local TV station here:
http://abclocal.go.com/ktrk/story?section=news/entertainment&id=9494319
and if I can get it to work I'd like to post this picture of Michael, Mickey and Ann Miller (another MGM great) backstage at their Broadway show, " Sugar Babies."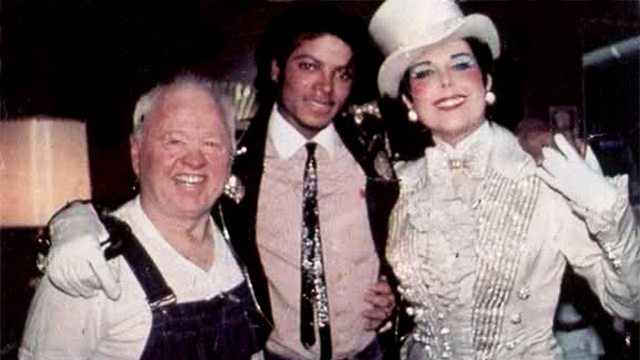 RIP Mickey.
(for anyone interested, they will be running a Mickey Rooney marathon this Sunday on TCM. Hopefully, they'll run "Girl Crazy"-one of his and Judy Garland's best)